Featured Art
Take A Peek Inside An Armadillo Art Collectors Home
2023 Armadillo Christmas Bazaar Featured Artwork by Dan Grissom 
We invite you to get a rare glimpse into the world of fine art collecting in Dan's fascinating art piece specially commissioned for the 2023 Armadillo Bazaar. In this vignette you will find at least 12 different references to Armadillo history or artwork created by artists and showcased at the Armadillo.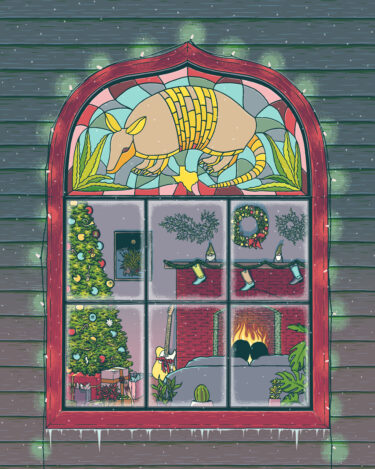 Dan's thoughtfully curated piece pays homage to the rich Armadillo history with a wreath inspired by a vintage poster from the 1980's, the enigmatic and elusive cult number: 709, the Armadillo Bazaar's signature plant: a poinsettia and of course the nine-banded Armadillo. As you explore the collectors home you will also find an array of artwork from renowned Armadillo artists carefully arranged within the home such as Dan Grissom himself, Rita Marie Ross, Alan Potter, Michael Mitchell, Steve Meadows, Betsy and Caya Crum, Lisa Morales and Chris Smith. Each piece is a testament to the collector's impeccable taste and discerning eye for exceptional art and Austin culture while reflecting the collector's individual style and personality. The collector can regale you with stories about their favorite artists, the history of the pieces and the creative process involved in the creation.
We are excited to expose the world of fine art collecting and share more about these pieces up close and personal. 
The History
The Armadillo and Texas Symbol in Stained Glass: Texas' very own nine-banded armadillo is the official state mammal and a beloved symbol of the Armadillo brand, often featured in our promotional materials.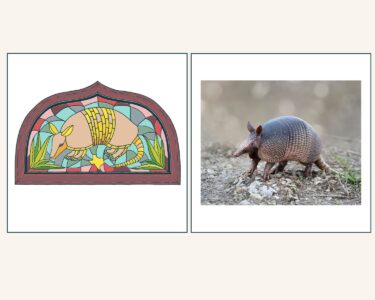 The Christmas Wreath: Originally crafted by renowned poster artist Bill Narum for the Armadillo Christmas Bazaar in the 1980s, this piece pays homage to Bill's pivotal role in Austin's art scene. As a member of the Armadillo art squad, he designed posters for numerous venues, including the Armadillo World Headquarters, Continental Club, Threadgill's, and ZZ Top. Bill's contributions earned him the presidency of the South Austin Popular Culture Center, as well as a Certificate of Appreciation from the City of Austin. A true Austin art legend.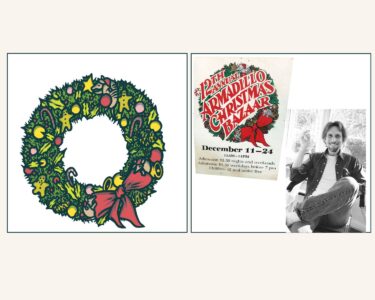 The Poinsettia: The Armadillo Christmas Bazaar's signature plant and official live decoration. Hundreds of these iconic plants are ordered each year from an Armadillo veteran and lend a special touch to the decor and holiday spirit. Each year, they are gifted to our artists at the end of the show.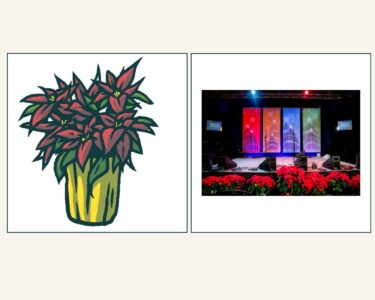 The Number 709: Long before 420 was popular 709 was an underground number among those involved in the arts in the 1970's and AWHQ's. Its true meaning is a closely guarded secret: "Those who know don't tell and those who tell don't know." However, it has been hidden in many of our featured art pieces and posters for decades, including this one (can you find it?). Keep an eye out for it in future materials too!
The Art
Dan Grissom, the 2023 Featured Artist: In 2020, Dan was selected as our featured artist, but due to unforeseen circumstances, the show was never held. Despite this setback, we showcased his artwork at the Armadillo Outside and wanted to give him another opportunity to display his work in the full glory of the indoor tradition. As a tribute to his 2020 piece, we have placed it in this collector's home on the wall beside the tree. Dan emphasizes the significance of visiting the Armadillo to acquire fine art, stating, "The Armadillo Christmas Bazaar is the ultimate destination for art collectors and enthusiasts to discover a diverse range of artists and craftspeople and engage with them about their creative process. As an Armadillo artist myself, I offer artwork of varying sizes and prices, making it possible for lifelong collectors to find a large piece that will serve as a focal point in their home, or for kids to spend their leftover birthday money on a small piece to start their collection. And during the holiday season, it's always gratifying to see people find the ideal gift for their loved ones, one that is not simply a mass-produced item from a big-box store, but an original work of art crafted by a working artist." He wants his collectors to understand that "Being a working artist can be challenging, but having a supportive marketplace to sell our creations and building relationships with the individuals who purchase them often provides the much-needed encouragement that keeps us producing."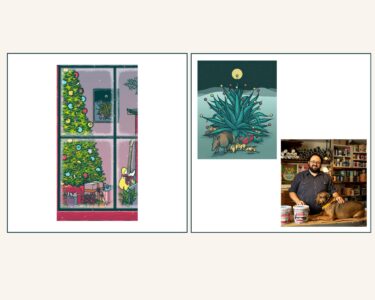 Rita Marie Ross' exquisite metal sculptures can be found as a permanent fixture gracing the collector's home above the mantle on both sides of the Christmas wreath. Having displayed her stunning pieces at the Armadillo for over 25 years, Rita draws inspiration from nature's patterns, textures, and chaos. For Rita, the Armadillo Bazaar is not just any Christmas show; it is a well-juried event that grants visibility to collectors of all kinds. Many of her collectors come back year after year in search of the latest additions to her collection, seeking fine art to adorn their homes. As an artist, Rita revels in witnessing the growth and evolution of fellow artists' work and her own. The event has provided her with numerous opportunities to work on commissions and collaborate with her clients, an experience she regards as a great honor. She expresses her heartfelt gratitude to her supporters and patrons, acknowledging their role in making the Armadillo Bazaar a festive and joyous occasion during the holidays.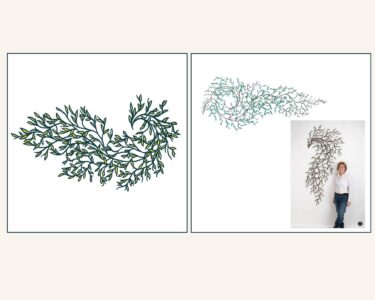 Alan Potter has been showcasing his clay sculptures at the Armadillo Christmas Bazaar for the past five years. A pair of his whimsical gnomes, crafted using the raku-firing technique, are proudly exhibited on the mantle. These charming sculptures along with his signature animal series can be gifted during the festive season or used as a playful year-round decoration. Alan's creative process involves the fusion of simple design with personification, complemented by the organic nature of raku, which brings the characters to life. Speaking about his experience at the Armadillo Christmas Bazaar, Alan emphasizes the significance of the event to both artists and patrons. He notes the loyalty and dedication of the customers, who visit his booth every year to add to their collection or simply say hello, creating a welcoming and generous atmosphere that keeps him coming back year after year.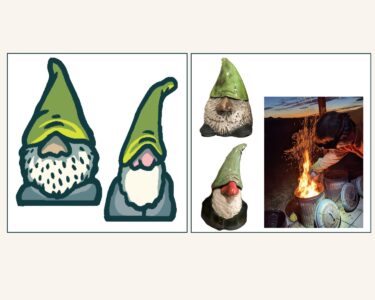 The ornaments that adorn the tree represent three of the past featured artists and two artists that make handmade ornaments. Each year a commemorative ornament is made with the featured art and can be bought at the Armadillo store. You can also find handmade ornaments from many artists at the show.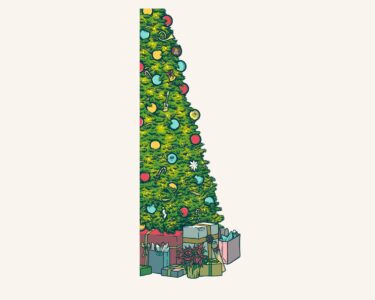 Mother and daughter, Betsy and Caya Crum have been a part of Armadillo for 14 years and created the 2022 featured artwork. Their mixed media art is inspired by the different landscapes of Texas and its cities, the West and Texas history. They describe the importance of the Armadillo: "The Armadillo Bazaar is a way for people to actively engage, in a very real way, with a part of living Texas history. By visiting the Armadillo and collecting fine art, patrons are reconnecting with the legendary Austin of the past, while creating new connections with this fresh "Global" Austin of the present and future. The patrons and collectors are what keep the Armadillo fires burning, they inspire us 'Dillo artists to come back each year, with  better ideas that continue to manifest this connective web of Armadillo positivity, love, music and art." and appreciate their collectors "Armadillo Collectors are different, ahead of the curve and not only do they know what is great, they know how to have a good time and where to have it — at the Armadillo Christmas Bazaar!  We would like to thank every single person who has come through our Armadillo booth and shared their time with us.  It's an honor to be a part of a show that has such an astute base of collectors.  Armadillo collectors are open to new work, new concepts, new ideas and new people."
Lisa Morales, a mixed media artist who works with repurposed paper, has been showcasing her work at Armadillo for 6 years and was the featured artist in 2019. Lisa finds joy in repurposing papers with a history, once used to bring joy and interest into someone else's life she gives it new life bringing that same joy and interest into her work. She believes that collecting art is a very personal experience that goes beyond the visual realm, and can evoke emotions such as joy, wonder, and being in the present moment. According to Lisa, Armadillo offers its patrons the opportunity to find something special that speaks to them, while also meeting the makers and creatives who bring their work to life. Lisa's collectors are like a tribe to her, as they often build mutual bonds of encouragement and support. She expresses her gratitude towards them, saying, "My world is better because of them."
Chris Smith is a pen and ink artist who has been showcasing his work at Armadillo for 12 years. In 2017, he was the featured artist. Chris emphasizes the attraction of purchasing art from Armadillo: "Armadillo is a lively and traditional event that enables customers to visit and buy from their beloved artists. It's an excellent way for customers to support their local artists and enjoy a distinct indoor art and music festival in Austin. It's a fantastic way to end the year!"
Michael Mitchell, a native Austinite, showcases his reclaimed wood mosaics at the Armadillo and has been a part of the event for four years. Among his creations is a white snowflake ornament that is available for purchase at the Bazaar. Michael takes pride in creating unforgettable pieces and fulfilling clients' creative visions for their homes or businesses through commissioned work. According to Michael, it is crucial to visit the Armadillo Christmas Bazaar as it celebrates Austin's two major characteristics, music and art, and is an essential part of the city's culture.
Steve Meadows sells his handmade guitar and candy cane ornaments at Armadillo every year. He has been a part of Armadillo for 12 years. He started making ornaments out of the scraps from his bigger art pieces and found he could sometimes make more money from them than his big pieces! Steve's collectors return every year to check out his latest creations. He expresses his gratitude towards Armadillo, stating that "The way it's presented is so impressive. There's nothing quite like the Armadillo," and is delighted to have such loyal collectors.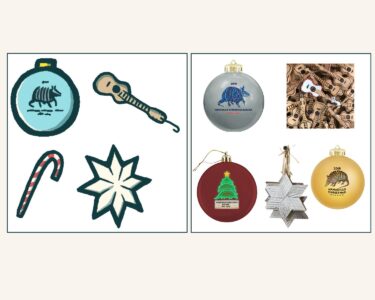 The art piece commissioned for the 2023 Armadillo Bazaar offers an opportunity to experience the world of fine art collecting through a vignette with 12 different references to Armadillo history or artwork created by artists showcased at the event. This thoughtfully curated piece by Dan Grissom showcases Armadillo history through various elements, including a wreath representing a vintage poster, the Armadillo Bazaar's signature plant, and the nine-banded Armadillo. The artwork of other Armadillo artists, such as Rita Marie Ross, Alan Potter, Michael Mitchell, Steve Meadows, Betsy and Caya Crum, Lisa Morales, and Chris Smith, is also displayed. The Armadillo Bazaar has always been a platform for artists and collectors, with the aim of bringing fine art into people's homes, creating lifelong memories, and supporting working artists.
More about Dan Grissom, the 2023 Featured Artist
Tell us about yourself, your artistic background/career, where you are from and where you live now.
I grew up in very rural Louisiana. I was always drawing or doing something art related while growing up and decided to pursue a degree in graphic design. Once settled into college, I got more into the studio art classes and ended up going on to pursue a Master's Degree in Studio Art (focusing on painting and printmaking) after getting a Bachelor's Degree in Graphic Communication.
After grad school in East Texas, I moved to Austin in the Summer of 2006 because I had friends who lived here and I was also playing in some bands and it seemed like a good place to be for that. I worked as a designer at a sign shop for a few years and then got a job at the now defunct Sanctuary Printshop. There I learned more about screen printing and got my start designing screen printed posters, but I still hadn't fully embraced illustration as my path. After a few years at Sanctuary, I left and got a job printing for Tim Doyle, who is also an Armadillo Christmas Bazaar Artist. Nakatomi, Tim's print shop, tends to print posters that lean more toward hand drawn illustration and less toward traditional design and vector illustration, which is more what I'd previously focused on. Printing for lots of great illustrators at Nakatomi and seeing their work up close inspired me to get back into drawing more. I thought it might be a good thing in my tool kit as a designer. I took to it pretty quickly. For the next few years I created my own art prints and took on as much freelance illustration work as possible while still printing at Nakatomi. I tried doing a few craft shows and art markets to sell my prints and those went pretty well. At a certain point, I crunched the numbers and realized I could make enough with selling my prints and doing some freelance illustration work and that I didn't really need to have a day job anymore. And without a day job, I could focus way more on my own work. So in the Spring of 2017, I left my job at Nakatomi and began the often wonderful and occasionally terrifying journey of being a self-employed artist. I have a fully operational screen printing and letterpress studio in my two-car garage in south Austin. I call that studio Biscuit Press and have now employed my friend Robert Steel to help with the printing of my posters as well as take on outside print work for other artists and designers.
---
Tell us about your history with the Armadillo Christmas Bazaar.
My first real taste of the Armadillo Christmas Bazaar was when I was working as a printer for Tim Doyle at Nakatomi. The first year he was a part of the Armadillo, I worked his booth for a good bit of the show. Then when I started focusing on my own prints and doing similar shows I always had the Armadillo in the back of my mind as something I'd like to try myself once I felt like I had enough work to present and was ready. I knew from working Tim's booth that it was a big commitment, but I wanted to give it a shot at some point. Then in 2017, since I didn't have my day job anymore and could handle the commitment, I applied and got in. 2023 will be my sixth year. It's a great show run by great people, so I'm really happy to be a part of it.
---
Tell us about the first dollar you made selling your art.
It wasn't a dollar, but the first piece of art I sold was to my Grandfather. I was maybe around 4 years old and I had told him I was going to be an artist when I grew up and he said he wanted to be my first customer. So I drew him two little drawings of flowers and he gave me a quarter for each of them. My Grandmother still has those two little drawings framed in her room.
---
If you were to work in any other medium, what would it be?
All of the above. I constantly see the work of other artists working in other mediums and want to try everything. I just bought the house I live in, so I'm currently thinking about trying my hand at some custom mosaic tile pieces and maybe even some stained glass pieces. I still paint sometimes as well, but one thing that really appeals to me about printmaking is that I think it sort of democratizes art in a way. Screen printing, in particular, is sort of a mid-point between fine art and commercial printing. All of my colors are mixed by hand and every color layer is printed by hand, but since printmakers are making multiples, we can generally keep the price of our prints a bit lower than many other mediums. I came from a working class family so I really like that I can keep my art accessible to people from similar backgrounds. I've had many people buy my work and tell me it's the first piece of art they've ever bought and that makes me feel great.
I'm a musician as well, so my early posters were for the bands I was playing in. Mostly printed on copy machines that I had access to. Then as I started honing my skills with design, illustration, and printmaking, the possibilities opened up quite a bit. After creating posters for my own bands and working as a designer, I started getting hired by friends' bands to create posters for them. Then the more I learned about the world of screen printed posters and the more I worked as a printer, the more I developed my own style. At this point I was still just thinking of myself as a designer and maybe a commercial illustrator, but eventually I started trying to create my own illustrations that could exist as art prints rather than being commercial projects for bands or businesses. Once I started thinking about things in that way, my career really opened up. I'm now at the point where I'm taking on less freelance work and focusing on my own prints instead.
---