Contact
Event Address:
900 Barton Springs Road
Austin, TX 78704
Mailing Address:
Armadillo Christmas Bazaar
8701 Leo St., Austin, TX 78745
Phone:
512-447-1605
General Inquiries:

PR:

Music booking:

Executive Producer:

Producer & General Manager:

Associate Producer:

---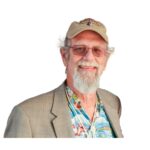 Bruce Willenzik came to Austin in May of 1972 to visit his brother. By October, he was in the music business working with the great Brazos River Valley Saturday Night Songster, Mance Lipscomb. In May 1974, he started a seven-year stint working at the Armadillo World Headquarters (AWHQ). A chance meeting with Lucinda Williams in 1973 resulted in a long-lasting friendship and the suggestion that AWHQ bring the artists from the artist market on the Drag inside for Christmas. So, under Armadillo Productions, Inc., the Armadillo Christmas Bazaar was born in 1976. Bruce took over the show in 1981 after the AWHQ had closed and has been Executive Producer ever since. Bruce retired from community service in 2017 after serving on the Austin Arts Commission since 1989 and the Austin Downtown Commission since 2000. He was Chair of the New Airport Terminal Task Force to develop the local identity theme at Bergstrom International Airport. In 1993, he was the recipient of the first Peacemaker of Austin Award for helping to end the arts wars and recruiting members for the board of the Austin Museum of Art.
"This philosophy of community, enhancing a sphere of prosperity and a commitment to art and music, are what makes the Armadillo the best of Austin's 'weird' and wonderful. Armadillo will continue to be the place for an authentic Austin live music and art buying experience, where creativity, originality, and fun are celebrated in the true spirit of the holidays. The long-term future of the show has been secured. Anne Johnson will take over the show and will pass it down to future Armadillo generations." -Bruce Willenzik
---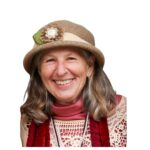 Annie Harding retired from The University of Texas as an enabler for a theoretical physics research group and coordinator of a graduate fellowship program in nanoscience. Now she spends her days of freedom as she likes, often with the love of her life, Bruce Willenzik. Some of her favorite pastimes are working out, girl days, as a liaison for Swan Songs and epic road trips. Her first visit to the Armadillo Christmas Bazaar in 1988 started a lifetime love of the show. Her first job was working the night box office (thanks Leea Mechling!). She's happily working as Associate Producer of the Armadillo with Anne Johnson leading the way!
---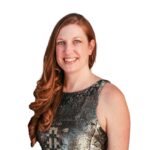 Anne Johnson, a native Austinite, works full time as Producer & General Manager of the Armadillo Christmas Bazaar. Her deep rooted connection to the event can be traced back to her childhood as she considers herself an "Armadillo baby". A phenomenon shared with other children that grew up at Armadillo because of their parents' role in the 1980's and 1990's. Anne's first Armadillo job was as a five year old, delivering show flyers to local Austin businesses in her radio flyer wagon with her Mom.
The Armadillo Christmas Bazaar has become a multi-generational tradition in Anne's family. You can find up to four generations of her family celebrating at the Armadillo each year. Anne has been working production for the event since 2010, training to one day inherit the show. She is honored to be a part of an iconic Austin tradition and dedicated to its success in the future. She can think of no better job than producing events and working in the world of art. She loves visiting local, regional and national art shows. Anne served on the board for Art Alliance Austin helping plan Art City Austin and other art events in Austin. She welcomed her son into the world in 2020 and she is so excited to pass along the rich culture and traditions of the Armadillo Christmas Bazaar to him.
"I believe this show is a passion project for all involved. I can't imagine myself doing anything different, I have the best job in the world surrounded by the best people. There's nothing else quite like the Armadillo. After studying and being involved with other art and music festivals, I've come to realize that we are not only a different animal but a different species on a different planet. We treat people differently, like family, because they are exactly that, our customers, artists, musicians, staff, sponsors, contractors…everyone we meet deserves to feel the love of this event." -Anne Johnson
---