Lighting Tutorial
Lighting Concepts
Variables / Aspects

Kelvin Temperature
Beam Spread

Troubleshooting

Over Wall Top
Wall Ends at Aisle
Front Perimeter Panel or Column
Corner Display
Hard Shadows
---
Intro:
We seek to keep low lit aisles and dark ceilings so that effective individual booth lighting can add a higher level of quality to the visual appeal. The improvements in overall ambiance of the sales floor over the past decade makes it evident that the Lighting Tutorial has been working to our advantage.  It is essential that we continually improve to keep our patrons excited about the show. We've updated our tutorial to address new issues that have arisen and give more tips on the best lighting for our environment. We want you to advance your skills in overcoming competing visuals and crowd distractions with effective lighting.
Good lighting benefits everyone. Every improvement someone makes is good for themselves and all their neighbors.
The need: We created this lighting tutorial when it became apparent that some of our artists were experiencing avoidable sales declines due to lighting errors by themselves or their neighbors. At the same time, we needed to act to preserve that warm, cozy, and softly lit ambiance that adds charm to our show.
It is important at the Armadillo to be effective in highlighting your work, avoiding visual distraction, and allowing your customer's eyes to relax and appreciate the quality of your work leading to more sales for you.
---
Overview:
Do:
Keep your light on your art and away from aisles, neighbors, and customer's eyes.
Use directional light sources and sufficient cowling on fixtures to control beam.
Use swing-arm lamps on wall ends at aisles.
Have an ample support system to provide stability for lighting components.
Use the Armadillo Wiring Guide.
Keep It Safe.
Do Not:
Bring attention to lighting components unless you are selling them
Use non-directional light sources
Aim your lights at the aisle, over wall tops, or at ceiling
---
Armadillo Lighting Goal
Our goal is for each of you to put the most attractive quality and quantity of light on your product, while at the same time we expect you to:
Comply with all Armadillo and City of Austin safety requirements.
Block light beam from going over or around your wall into your neighbor's booth or aisles.
Avoid eye bite on and around the artwork/merchandise and in the aisles.
Reduce the level of light bleed that illuminates the ceiling.
Enhance the low-lit, warm, and cozy ambiance of the room.
---
Lighting Concepts
Eye Bait: Everything you do to attract the customer's eyes to your work. Your goal is to create an alluring presentation. You want the customers to focus their attention on your display long enough to appreciate the originality, skill, workmanship, and care that went into creating your merchandise. Effective lighting highlights the quality and appeal of your presentation. Your lighting must allow the customer's eyes to be comfortable while approaching your work. Lighting can be a big factor in reaching your sales potential. Your lighting fixtures should mostly disappear while their effect makes the artwork glow to illuminate the room.
Eye Bite: Any unintended lighting effect, which causes the eye to divert. Just as eye bait makes the patron's eyes comfortable and attracts them to your work, eye bite irritates the eyes and turns them away from your display. It can be as simple as a minor irritation from a vent on the side of a track fixture. Under our low light conditions, catching the business end of a light bulb right in the eye is a noticeable and discomforting experience. Eye bite will reduce customer interest in your display. Most eye bite can be reduced significantly, but rarely eliminated entirely.
The following are common sources of eye bite:
Uncontrolled beam angle
Misdirected light
Side bleed
Too much light on a product, especially on a high gloss surface
Miscellaneous (facility lighting, sunset, neighboring booths)
Controllable Distraction: Some distractions are not in your control.
Pay attention to the ones that you can do something about:
Clash with your eye bait
Distract the customers' attention away from your work
Diminish your customers' perception of value for your work
Cause your customers to feel uncomfortable or unsafe
Pay attention to these issues to reduce your eye bite:
Beam spread/angle of beam projection (look at the beam chart below for reference)

Hard beam edges on halogen vs. soft beam edges on LED

Beam control/cowling
Side and back light leakage through vents
Distracting shadows and reflections
We know eye bite cannot be eliminated completely. We want artists to endeavor to put their best light focused on their work, while containing your beam spread within and around your booth.
---
Variables and Aspects of Lighting
Please pay attention to these variables to get better performance from directional light sources.
Five variables that will affect your light:
Angle refers to the degree of light spread emitting from a bulb

Hard edges on halogen allow no eye bite outside of edge
Soft edges on LED bulbs require additional cowling to contain eye bite

Direction refers to the angle of strike as light beam hits artwork
Distance controls how much space a light beam has available to spread out on the artwork
Intensity refers to the lumen output, brightness of the light
Color refers to Kelvin temperature
Kelvin Temperature
For reference, true direct sunlight outdoors is about 4,600k.
Warm Light – 2700 to 3000 Kelvin is slightly yellow

Package says "Soft White"
Typical household lighting
Works well on fabric, wood, or paper
Reduced visibility of flaws on surfaces
Comfortable on eye

Natural Light – 4000 Kelvin is a truer white

Typical gallery lighting
Works well on metals, glossy glazes and paint
Shows some flaws on surfaces
Not discomforting to the eye

Day White – 5000 Kelvin is slightly blue

Often called "Stark White"
Typical for a medical examination room
Shows subtle color differences
Easily shows flaws on surfaces
Can be discomforting to eye

Cool Light – 7000K is very blue

Package says "Daylight"
Recommended for specialized lighting only
Shows extremely subtle color differences
Brings out minor flaws on surfaces
Harsh on eyes
Kelvin Color Charts
Beam Spread Chart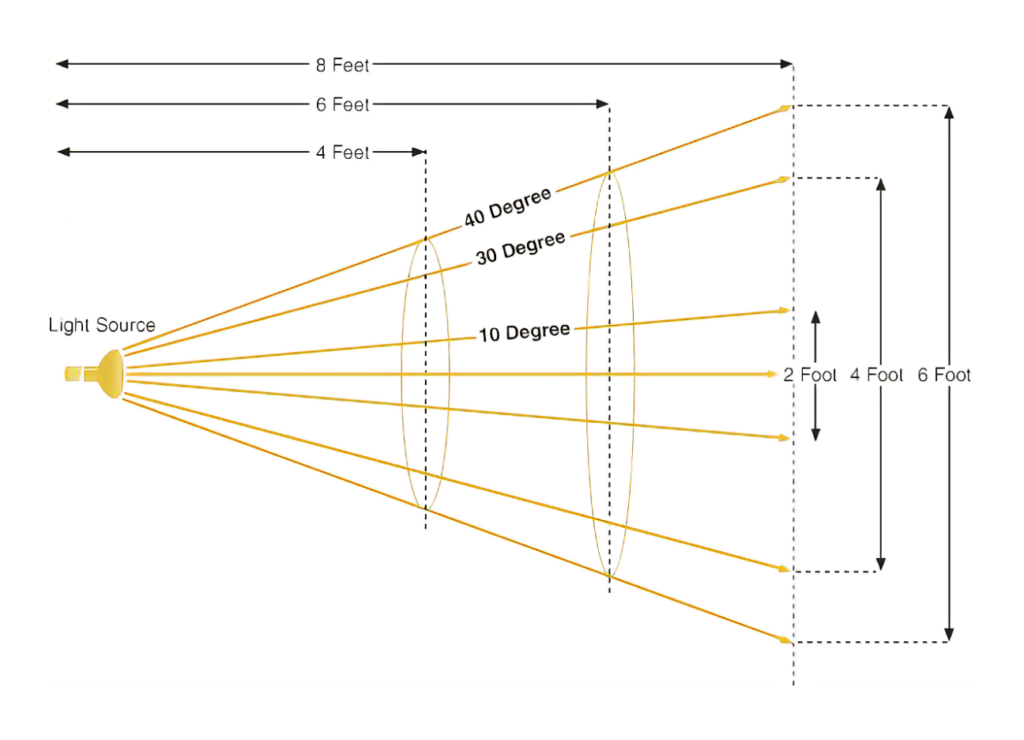 Troubleshooting
Troubleshooting 1: Over the Wall Top
Goal: To have an even spread of light on my wall top so my items that are hung high have the best visual impact.
Means: Raising light fixtures.
Issue: Light beam passes over wall top to cause problems in the aisles and for neighbors.
Possible Solution:  Lightweight nearly invisible black matte board height extender panels can be seen at the seams (arrows). These contain the tops of light beams. Remember to provide a finished look on both front and back sides as to avoid visual distraction to neighbors.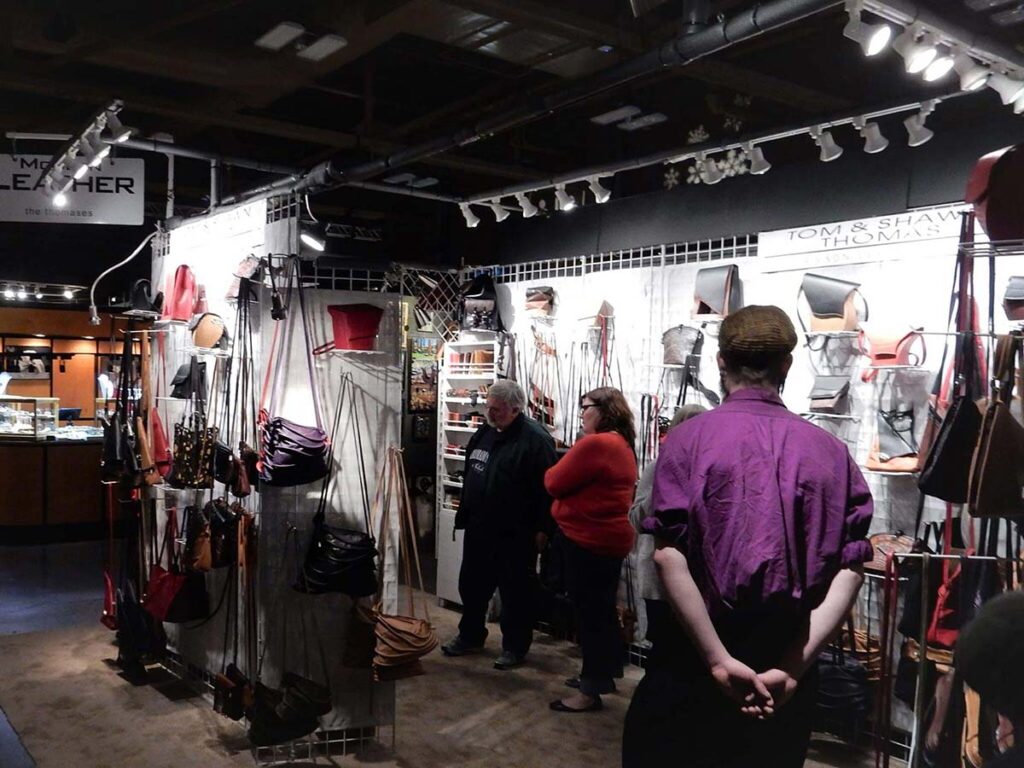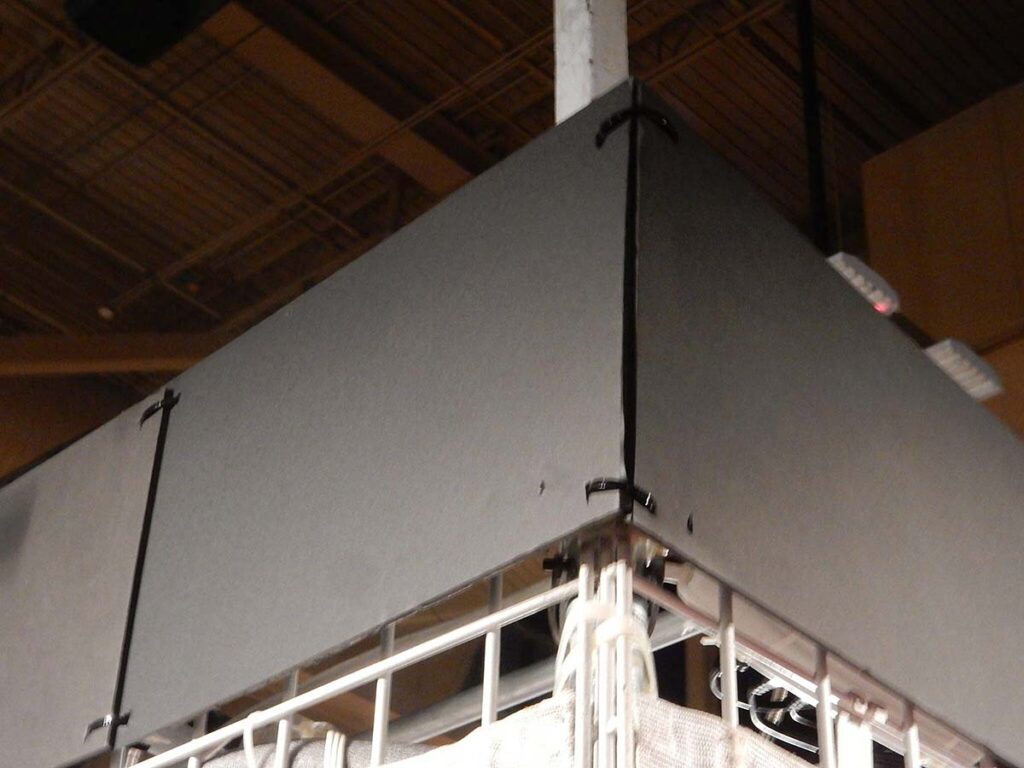 Troubleshooting 2: Wall Ends at Aisle
Goal: To have an even spread of light on my wall ends at aisle so my items displayed there have better visual impact.
Means: Aiming a front perimeter track light at the area.
Issue: Large segment of the light beam is aimed into the eyes of approaching patrons causing major eye bite.
Possible Solution: Use two of the Alvin swing-arm lamps. One placed at tip of wall top, angled out and into the aisle, focused back into the upper wall. A second Alvin mounted 24" to 30" away from wall end, angled out and slightly toward back wall, and focused back on the lower segment of the wall end. The wall end will be well lit, and the light spill will hit the aisle at knee level. No eye bite.
---
Troubleshooting 3: Front Perimeter Panel or Column
Goal: To have an even spread of light on my aisle front display columns or single panel so my items displayed there have better visual impact.
Means: Aiming track lights and swing-arm lamps from various angles.
Issue: Misdirected light right in the face of approaching customers is counterproductive to sales.
Possible Solution: Use the Alvins here just like you would on the wall ends at aisle. Carefully aim light beams to avoid hitting aisles at eye level. Use bulbs with a tighter beam spread if needed.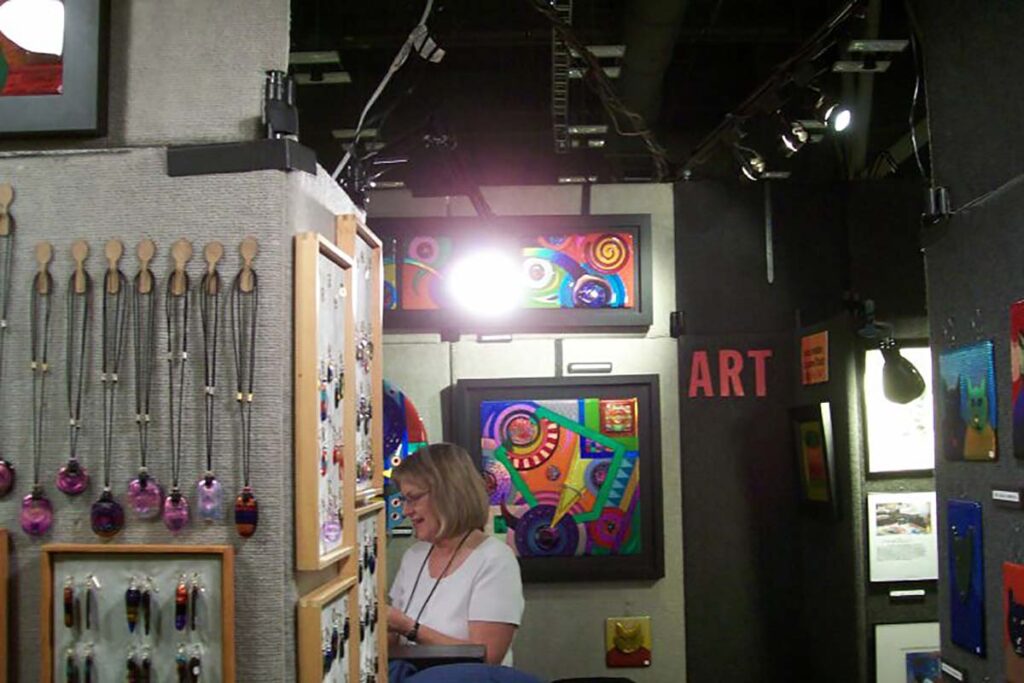 Troubleshooting 4: Corner Display and Hanging Items
Goal: To have an even spread of light on the aisle side of my front corner display fixture, columns hanging items, or single panel so my items displayed there have better visual impact.
Means:  Aiming track lights and swing-arm lamps from various angles.
Issue: Misdirected lights. Poor lighting on the side toward customer approach. The most common issue is customers see the shadow side while getting the light in the face.
Possible Solution: Extend 2×2 lumber truss out above and past the corner for mounting light fixtures in a position as to focus down and in on the corner. Use Alvins with directional bulbs so light falls on the aisle side of the display.
Hanging items, like the earring racks in the photo, are especially tricky as there is no close backstop to stop the light beam. Pay attention that the angle of strike so the light beam hits artwork at an effective angle toward the floor. Spotlight bulbs with very narrow beams may be needed in some cases.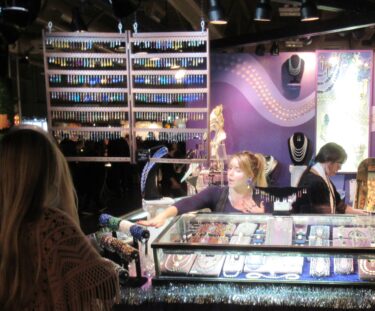 Troubleshooting 5: Front Perimeter Sign
Goal: To have an even spread of light on my front perimeter mounted sign so it will have visual impact.
Means: Aiming Alvin swing-arm lamps from various angles.
Issue: Uneven light on the sign with misdirected light in the aisles.
Possible Solution: Consider moving your sign to an inside wall and adjust size as appropriate.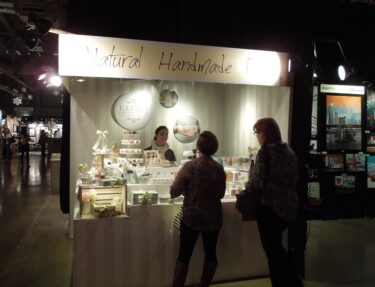 Troubleshooting 6: Hard Shadows on Walls and Under Shelves
Goal:  To add even light on areas to reduce distracting harsh shadows and make my shelves look better.
Means: Aiming more light from a distance at the area.
Issue: Just made the shadows look darker.
Possible Solution: Overlap light beams from different angles on wall and use undershelf lighting pods on dark shelves.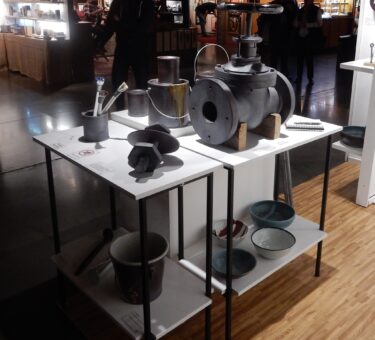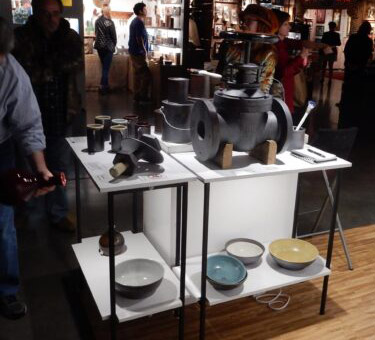 ---
Troubleshooting 7: Beam Spread Control for LED Bulbs
Goal:  Use my existing fixtures with a change from halogen to LED bulbs.
Means: Switch bulbs.
Issue: Fixture cowl no longer effective to control beam edges.
Possible Solution: Attach non-flammable cowl extenders.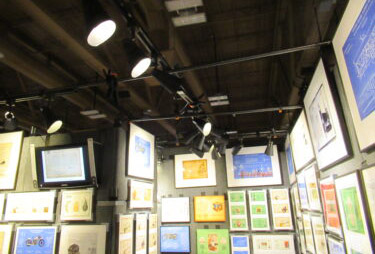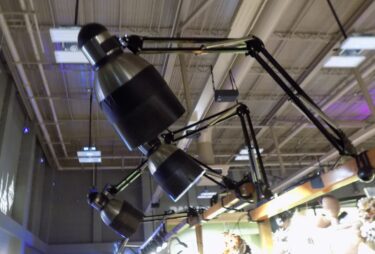 Simple Hack for Better Results:
Example of a big improvement by removing a visual distraction:
Before & After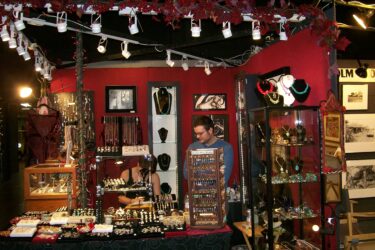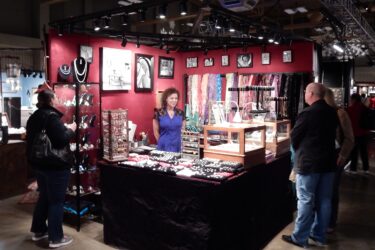 Examples of Lighting Errors to Avoid
Please do not be a nuisance to your neighbor by allowing your lights to go over or around your walls.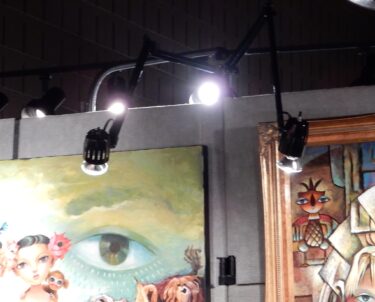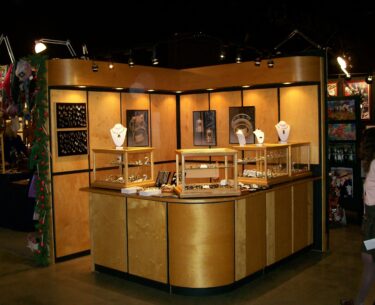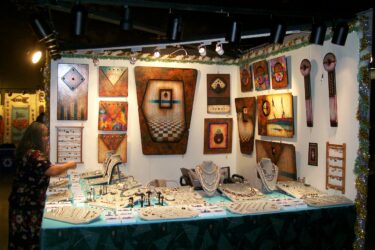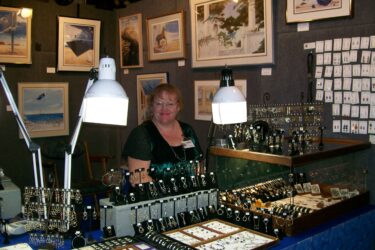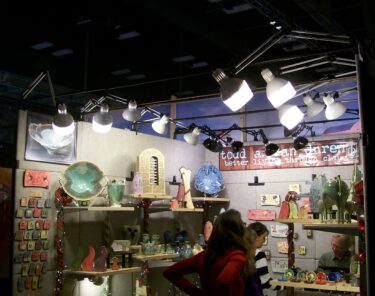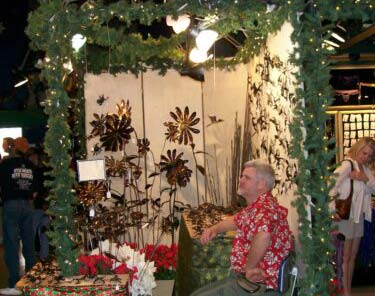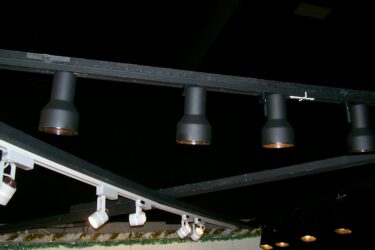 Eye Bite Warning: Do not aim a front perimeter track light at a side wall end on the aisle.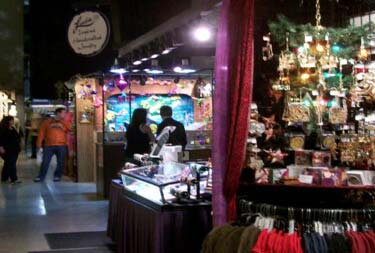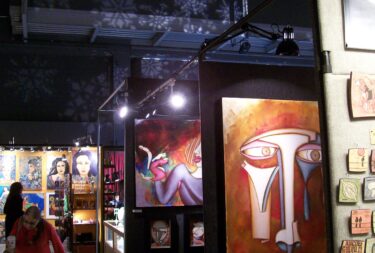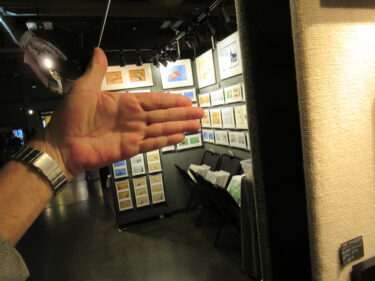 Eye Bite Warning:  Standard MR16 bulbs in vented fixtures will bleed unwanted light out of the vent.  Either buy unvented fixtures or use high-temperature automotive exhaust manifold paint on the bulb sides.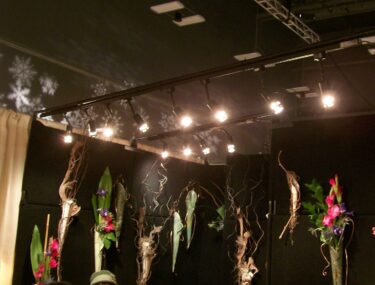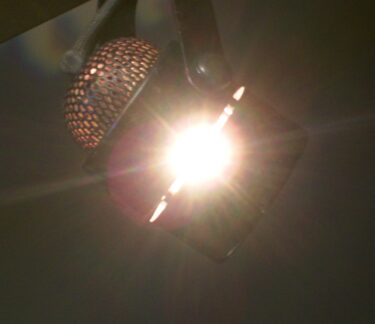 Eye Bite Warning: Using non-directional bulbs to light a corner display is counterproductive to sales.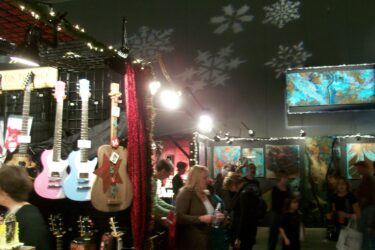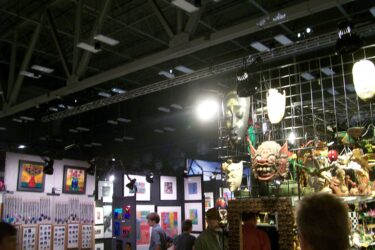 Eye Bite Warning: Avoid Non-Directional light bars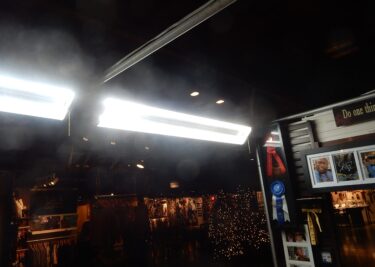 Lights mounted too close or there is just too much light in the booth makes it more difficult for patrons to appreciate the quality of the work.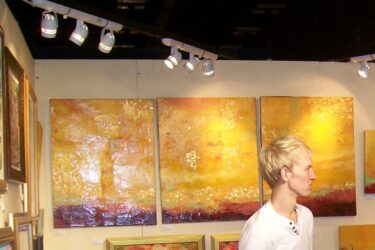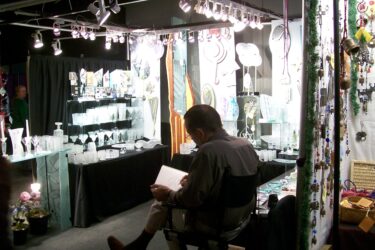 Popular Lighting Components for Armadillo
Showing Only Black — White Components Are Available
If configured correctly, these components can work at the Armadillo.
Track
Track End Power Feed and Cord – BLACK
4′ Black Power Track4′ Black Power Track
Track Fixtures for PAR20 Bulbs
Best price for quality
Step-down Cylinder
https://www.1000bulbs.com/product/173520/PLT-10220.html
Best Alternative
Continental Step Cylinder
https://www.1000bulbs.com/product/4165/NORA-NTH103B.html
---
PAR20 Bulbs
LED
Warm Light – 2700 to 3000 Kelvin
PLT 500 Lumens – 7 Watt – 3000 Kelvin – LED PAR20 Lamp
50 Watt Equal – 40 Deg. Flood – Dimmable – 120 Volt – PLT Solutions – PLT-11140
https://www.1000bulbs.com/fil/products/203856
500 Lumens – 7 Watt – 3000 Kelvin – LED PAR20 Lamp
Euri 50 Watt Equal – 40 Deg. Flood – Dimmable – 120 Volt – sold by 2 Pack – Euri Lighting EP20-7W6000e-2
Natural Light – 4000 Kelvin
PLT Natural Light – 500 Lumens – 5.5 Watt – 4000 Kelvin – LED PAR20
50 Watt Equal – 40 Deg. Flood – Dimmable – 90 CRI – 120 Volt – PLT Solutions – PLTS-12026
https://www.1000bulbs.com/product/221939/PLTS-12026.html
Stark White Light – 5000 Kelvin
PLT 500 Lumens – 7 Watt – 5000 Kelvin – LED PAR20 Lamp
50 Watt Equal – 40 Deg. Flood – Dimmable – 120 Volt – PLT Solutions – PLT-11142
https://www.1000bulbs.com/fil/products/203858
Euri 500 Lumens – 7 Watt – 5000 Kelvin – LED PAR20 Lamp
50 Watt Equal – 40 Deg. Flood – Dimmable – 120 Volt – sold by 2 Pack – Euri Lighting EP20-7W6050e-2
https://www.1000bulbs.com/product/222346/IRT-10369.html
Swing Arm Lamp
Alvin G2540-B, black with a DOUBLE BAFFLE for glare reduction.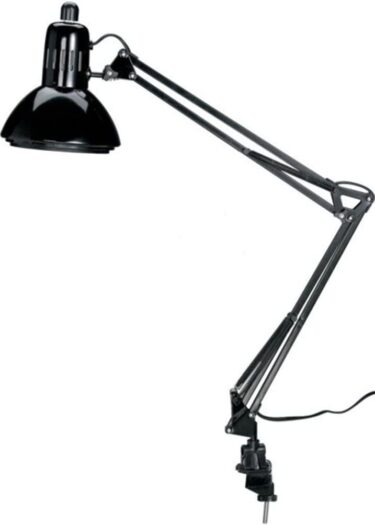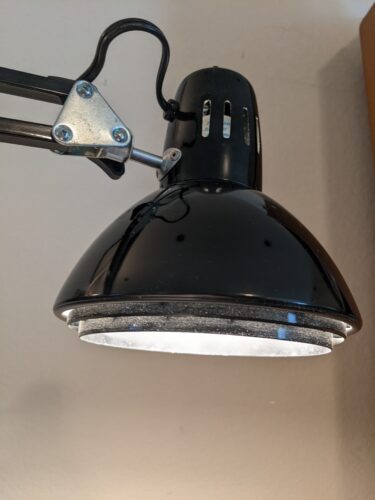 If you use a halogen 40 Deg. flood with a flat nubby head, you won't need the double baffling.  With any other type of bulb, the double baffling is the best solution to reduce side beam spread in critical areas.
---
Undershelf Lighting
6 pack with 14 brightness settings & 3 different Kelvin temps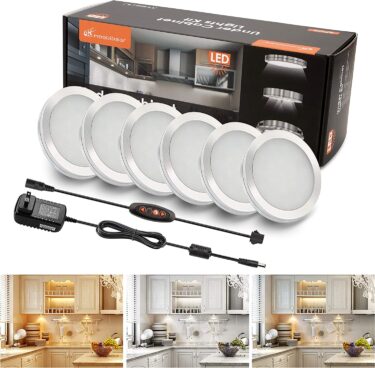 ---
14AWG Power Cords
Correct gauge and configuration for Armadillo use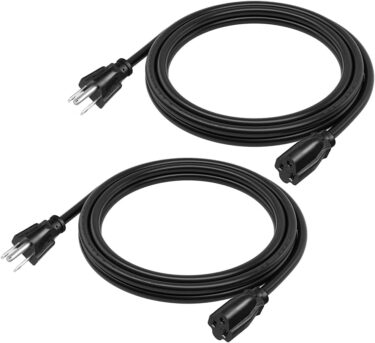 ---
Appendix to Lighting Tutorial
The overall effect of lighting at the Armadillo Christmas Bazaar, featuring dark ceilings, dimly lit aisles, minimum glare, and brightly lit artwork makes a huge difference in the sales potential for each individual artist. 
This effect is achieved by having every participant follow Armadillo lighting standards.
Beam edges need to be made controllable.  This can be accomplished by using bulbs of 500 Lumens or less with a 40-degree or less beam spread, fixtures with cowling, track lighting hung below the wall top, effective lighting angles, 32" arm lamps for wall surfaces closest to the aisles, and a larger number of fixtures selectively aimed.  Some components work a lot better than others. 
At the Armadillo, we require artists to use only lighting components that can be configured so that the bright part of any bulb cannot be seen at eye level from anywhere in an aisle, over a wall top, or in neighbor's booth space.
Using ProPanel lighting components to create this effect can prove to be either very challenging or impossible, depending on the components used and the manner in which they are applied.  
About ProPanel Lighting components at Armadillo:
ProPanel is well known for having excellent display panels and accessories ideally suited for use within a professional art tent in an outdoor setting.  Their components also work well in an indoor facility with plenty of diffuse overhead lighting.  Their panels, furnishings, and most accessories have been used with great success at Armadillo for years. 
https://www.pinterest.com/propanels/pro-panel-booths-at-2016-armadillo-christmas-bazaa/
Their lighting components are different.
ProPanel lighting is carefully designed to work under a white tent top.  It appears that their intention is to fill a need to illuminate the maximum amount of art display space with the fewest bulbs and the lowest power draw. Their components are well suited for that purpose.
Components designed for use under a white tent top or well-lit exhibition center can be counterproductive to the overall Armadillo lighting ambiance
ProPanel Lighting Components:
ProPanel Fixtures: These lighting fixtures are designed without beam spread limiting cowling because their system is intended to use the tent top to capture the beam spill and reflect it back in a diffuse manner, over the art.  This design is not suitable for attaching additional cowling.
ProPanel Bulbs: These bulbs are designed with a wide 60-degree beam spread to cover more display space and an intensity of 1000 Lumens.  These are difficult to use in the Armadillo environment because of high intensity and wide beam spread.
ProPanel Tracks: These track mounts are designed to stand tall, higher than wall tops, well up into the tent canopy to provide more distance for the beam to spread and more tent top reflection.  Without a tent top to catch the beam, the light is prepositioned over the wall top, shining right into your neighbor's space or an aisle.
Do not plan on using this type of track holder at the Armadillo unless you provide an additional light beam blocker as shown in the lighting tutorial section, Troubleshooting 1.
ProPanel Arm Lamps: (both single panel and/or double panel, both set length and/or telescopic)
These are designed to illuminate one or two panels from a position close to a display wall, right at the level of the wall top.
A few Armadillo artists have achieved some success with limited application lighting two-dimensional art and careful placement of these arm lamps.  
This tricky application worked correctly when the artist aimed his side and back wall lights almost straight down, slightly tilted just a few degrees inward and away from the aisle.  Lighting art near the wall ends at the aisles was the biggest challenge to get right.
Just a little change in the angle of the focus produces a different and undesirable effect allowing the light beam edge to spill into the aisle. 
Generally, this lighting configuration and its components are not encouraged for use at Armadillo because of the limited application and the skill level needed to achieve the precise focus to keep the beam contained. 
Occasionally, this approach may be appropriate for artist with 2D work with distinctive texture, such as carved paint, due to the effect that steeply angled light would have on the work.  The best result would come from having enough fixtures to always point the light straight down as to avoid having to angle any of the beams sideways.
Recommended Alternatives:
Track Fixture
Fixture – Step-down Cylinder – Black   $12.38 In stock 090823
https://www.1000bulbs.com/product/173520/PLT-10220.html 
Swing Arm Lamp 
Globe 32" $20.55 In stock 090823
https://www.amazon.com/Globe-Electric-56963-Multi-Joint-Metal/dp/B00HX2EVPS/ref=asc_df_B00HX2EVPS/?tag=hyprod-20&linkCode=df0&hvadid=167144278306&hvpos=&hvnetw=g&hvrand=9579411094857241225&hvpone=&hvptwo=&hvqmt=&hvdev=c&hvdvcmdl=&hvlocint=&hvlocphy=9028309&hvtargid=pla-272858782493&th=1 
LED Bulbs
3000K
PLT 500 Lumens – 5.5 Watt – 3000 Kelvin – LED PAR20 Lamp $2.72 In stock 090823
https://www.1000bulbs.com/fil/products/203856 
4,000K
PLT 500 Lumens – 5.5 Watt – 4000 Kelvin – LED PAR20 Lamp $2.72 In stock 090823
https://www.1000bulbs.com/product/221939/PLTS-12026.html 
Pre-Check: Please check with Bruce first if you are planning to use ProPanel lighting components at the Armadillo.  Indicate the components that you want to use and how you plan to configure them to comply with Armadillo Lighting standards.
---
Sample Booth Lighting and Wiring Plan